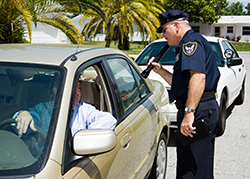 Long Course Description
Course Number
OSS-VS-PO
Price (Shown in U.S. Dollars)
15.00
Overview
This is an OSS Academy® Vehicle Searches  online training course offered for Peace Officers, Jailers, and Telecommunicators
It is 3:00 a.m., you are patrolling on the highway that runs through your district. You observe a moving vehicle that you suspect may have committed, is about to commit, or is committing a crime. What does the Constitution allow you to do in regard to legally stopping this vehicle? Under what conditions can you legally search the vehicle, its occupants, or its contents? If you are not sure of the answers to these questions, then this course is for you. This course is designed to help guide an officer through the difficult process of determining what the Fourth Amendment allows with regard to stopping and/or searching vehicles, occupants and containers. Officers are called upon everyday to make decisions about whether or not they can stop a particular vehicle, order the occupants out of the vehicle, or legally search the occupants and the vehicle. The purpose of this course is to assist officers in understanding the rulings of the Supreme Court that will help them make decisions that are consistent with the Fourth Amendment rulings when searching vehicles and occupants.
Please note, the entire course final exam(s), and course evaluation(s) must be completed in order to receive one (1) hour of course credit.
Note, this particular storefront listing is not  the TCOLE accredited course. To purchase the TCOLE accredited  Vehicle Searches course, click here.
Objective
OSS Academy® courses are recognized by more Peace Officer Standards and Training boards and correctional associations than any other online training provider.
Our courses are designed by Subject Matter Experts who are nationally recognized and licensed instructors. Many of our experts testify in law enforcement, corrections, and security related defense cases throughout the U.S.
Our curriculum meets or exceeds state course objective requirements.
For more information, visit  OSS - Law Enforcement Advisors®  or  OSS Academy®  online or simply contact the OSS Academy® Training Coordinator by phone at  281-288-9190 (Ext. 205) or online at Contact OSS Academy.
Additional Information
Should you have any questions, simply contact the OSS Academy® Training Coordinator by phone at 281-288-9190 (Ext. 205) or online  at Contact OSS Academy.
Course Hours
1.00
Send Message to listing owner