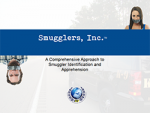 Long Course Description
Course Number
77266
Price (Shown in U.S. Dollars)
155.00
Overview
This Smugglers, Inc.® (Triple I Solutions®) elective online Texas Commission on Law Enforcement (TCOLE) training course is offered by OSS Academy® for Texas Peace Officers, Jailers, and Telecommunicators.
This dynamic 16-hour comprehensive online course is designed to provide the attendee with the skill set necessary to properly identify and apprehend smuggling operators in transit. During the course, the attendees will learn about the specific components involved in counter-smuggling/interdiction enforcement missions. Discussion in this course includes familiarization with recent national case-laws that affect criminal interdiction, while providing scientific tools to counter arguments presented in the court systems. The curriculum, having been designed by the instructor and based on his personal expertise, begins with helping the attendees understand their own strengths, while providing solutions to improve their weaknesses in interview situations. The course continues into understanding the Smuggling Operations and the Tradecraft used in these Clandestine Operations.
By understanding the inner workings of these operations and having the ability to properly and effectively identify clandestine activities of smuggling groups, the attendee will become proficient in properly identifying smuggling targets through analytical research, critical thinking and operational categorization prior to the stop, which continues throughout the contact. The course provides various techniques that can be used to engage the vehicle occupants and clandestinely illicit the needed data to determine if and what type of criminal activity is afoot. Weblink: Syllabus
Student Accolade:
The two on-line interdiction courses (Evading Honesty® and Smugglers, Inc.®) I took over the weekend literally already paid for themselves....the VERY NEXT SHIFT I worked! Everyone is asking what I picked up on and I'm referring them to your website and the two courses. I'm not sure if you guys want the feedback or not but I just thought you should know how effective the courses are! Thank You!
- J. Patterson, Texas Peace Officer
Please note, the entire Smugglers, Inc.® course, including final exam(s) and course evaluation(s) must be completed in order to receive sixteen (16) hours of course credit.
TCOLE Reporting
OSS Academy® typically reports 4 to 5 times each week [excluding U.S. Federal holidays]. We report your credit directly through TCLEDDS to the Texas Commission on Law Enforcement [TCOLE]. You should have already provided your full and correct name, TCOLE PID number, and other important information when registering for your account. If not, once logged in, go to Edit Profile to update your information.
Should you have any questions, simply contact the OSS Academy® Training Coordinator by phone at 281-288-9190 (Ext. 205) or online at Contact OSS Academy®.
Objective
Learn important personal attributes (Self-Evaluation), such as Student/Officer personalities, learning styles and how each Student/Officer interprets communications components when in contact with others.
Learn the Tradecraft of Smuggling Operations to assist in targeting and interviewing suspected smugglers.
Understand the Evading Honesty® System's components and be able to effectively observe deceptive behaviors related to triggers.
Understand factors considered in target selection, utilizing tradecraft and interview techniques.
Learn legal and proper manner to obtain consent to search to combat legal issues.
Learn how to conduct directed/whisper stops to prevent problematic testimony in court.
Student/Officer will be exposed to factors and tradecraft commonly used by human smugglers, which differ from contraband smugglers.
OSS Academy® courses are recognized by more Peace Officer Standards and Training boards and correctional associations than any other online training provider.
Our courses are designed by Subject Matter Experts who are nationally recognized and licensed instructors. Many of our experts testify in law enforcement, corrections, and security related defense cases throughout the U.S.
Our curriculum meets or exceeds state course objective requirements.
For more information, visit OSS - Law Enforcement Advisors® or OSS Academy® online or simply contact the OSS Academy® Training Coordinator by phone at 281-288-9190 (Ext. 205) or online at Contact OSS Academy®.
Additional Information
TCOLE Training, Proficiency Requirements, & Course Equivalents
For your convenience, OSS Academy® provides a TCOLE Course Equivalent Resource with embedded hyperlinks.
See also, our entire TCOLE Courses Listing.
Should you have any questions, simply contact the OSS Academy® Training Coordinator by phone at 281-288-9190 (Ext. 205) or online at Contact OSS Academy®.
Course Hours
16.00
Send Message to listing owner