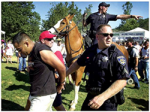 Long Course Description
Course Number
OSS-DCMB-LPL
Price (Shown in U.S. Dollars)
15.00
Overview
This is an OSS Academy® Demonstration & Crowd Management Basics online training course offered for Peace Officers, Jailers, and Telecommunicators.
Protests against Wal-Mart in 2013 drew almost 30,000 demonstrators nationwide. In San Francisco protesters angered by the acquittal of George Zimmerman held largely peaceful demonstrations, but then erupted into breaking windows and starting small street fires. There were Occupy protests in almost every state, and these occurred in small towns, as well as large. How prepared are you and your department to handle a demonstration or protest? What resources do you have available? How soon could you mobilize your forces? What policies, and subsequent training, should you have implemented prior to responding to a demonstration? These and many more questions are answered in this thought provoking and informative training about how to prepare for and respond to a demonstration.
Please note, the entire course final exam(s), and course evaluation(s) must be completed in order to receive one (1) hour of course credit.
Note, this particular storefront listing is not the TCOLE accredited course. To purchase the TCOLE accredited Demonstration & Crowd Management Basics course, click here. 
Objective
OSS Academy® courses are recognized by more Peace Officer Standards and Training boards and correctional associations than any other online training provider.
Our courses are designed by Subject Matter Experts who are nationally recognized and licensed instructors. Many of our experts testify in law enforcement, corrections, and security related defense cases throughout the U.S.
Our curriculum meets or exceeds state course objective requirements.
For more information, visit OSS - Law Enforcement Advisors® or OSS Academy® online or simply contact the OSS Academy® Training Coordinator by phone at 281-288-9190 (Ext. 205) or online at Contact OSS Academy
Additional Information
Should you have any questions, simply contact the OSS Academy® Training Coordinator by phone at 281-288-9190 (Ext. 205) or online at Contact OSS Academy
Send Message to listing owner