Less Lethal Techniques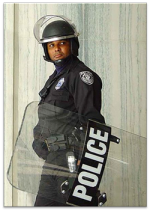 Course Name:
Less Lethal Techniques
Long Course Description:
Course Number
OSS-LLT-UOF
Price (Shown in U.S. Dollars)
15.00
Overview
This is an OSS Academy® Less Lethal Techniques online training course offered for Peace Officers, Jailers, and Telecommunicators.
Use of force is one of the most critical issues facing law enforcement professionals today. Too frequently officers are injured, and some killed, while responding to calls. Others are killed or injured, because they hesitate to act decisively in the face of perceived danger. All too often this life threatening hesitation is caused by officers having to stop and think of the fundamentals of force, their options, and the consequences of their action.
This course reviews the critical fundamentals of the use of less-lethal force as part of a force continuum. Although it is not a requirement for taking this course, we recommend you consider taking the Use of Force and Deadly Force course offered in our course library, as the two are complementary. This less-lethal course briefly reviews some of the more critical data contained in the use of force course.
Please note, the entire course final exam(s), and course evaluation(s) must be completed in order to receive one (1) hour of course credit.
Note, this particular storefront listing is not the TCOLE accredited course. To purchase the TCOLE accredited Less Lethal Techniques course, click here. 
Objective
OSS Academy® courses are recognized by more Peace Officer Standards and Training boards and correctional associations than any other online training provider.
Our courses are designed by Subject Matter Experts who are nationally recognized and licensed instructors. Many of our experts testify in law enforcement, corrections, and security related defense cases throughout the U.S.
Our curriculum meets or exceeds state course objective requirements.
For more information, visit OSS – Law Enforcement Advisors® or OSS Academy® online or simply contact the OSS Academy® Training Coordinator by phone at 281-288-9190 (Ext. 205) or online at Contact OSS Academy
Additional Information
For your convenience, OSS Academy® provides our entire E-Learning Training Courses Listing.
Should you have any questions, simply contact the OSS Academy® Training Coordinator by phone at 281-288-9190 (Ext. 205) or online at Contact OSS Academy®.
Send Message to listing owner